Offering an innovative take on brunch, our restaurant is located in the heart of Pottergate, Norwich. Bringing Aussie, New Zealand and Amsterdam vibes to daytime dining.
With fresh, vibrant ingredients, sourced for quality and taste from our local suppliers, we make every dish in our kitchen to bring you food with flavour and inspiration.
Our opening hours are:
8:30am – 4pm Wednesday & Thursday
8:30am – 5pm Friday & Saturday
8:am – 4pm Sundays
Closed Monday and Tuesday
Full service with, barista coffee, teas, soft drinks, juices and cocktails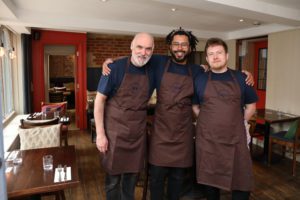 Our Story
Behind the concept of the restaurant is a team where each member brings something to the table; using individual experiences, ideas and adventures to create an inviting space to eat, meet and revive. Here's a little bit of info about your hosts:
Jeremy – Owner of the historic building itself which dates back to 1756. He sympathetically refurbished the building over the past decade or so, transforming the former bakery into a welcoming café space.
He's now working in partnership with Corrie and Jamal, giving an opportunity to two young hospitality professionals to grow a new business that will seed a new beginning for them and the building.
Corrie – Our Chef. He previously worked in a variety of Norwich restaurants, spanning a broad range of menus and cuisine, building skills and knowledge at each opportunity.
Adventure then called him to Amsterdam, where he worked with a charitable organisation helping vulnerable people to become chefs. With it's International and eclectic vibes, Corrie gained expertise in balancing flavours and fresh ingredients across world cuisines and methods.
Jamal – Front of House. He brings a wealth of experience after more than a decade in hospitality in Norwich overseeing service out front, but is also comfortable in the kitchen preparing dishes when required. Jamal is also the drinks expert, ensuring great coffee and creative cocktails to pair with menu choices.
The collaborative approach of the JC Pinto restaurant has brought Jeremy, Corrie and Jamal together, creating something new and innovative in Norwich city centre.
The Building
JC Pinto was originally a bakery, before becoming a popular pub, the Ironmongers Arms, in 1869
By 2010, the building had sadly fallen into disrepair. We completely refurbished it, restoring the older parts to their original style and transforming the downstairs space by adding a glazed roof. We also took the opportunity to demolish some rooms added in the 1950s to give the building more space.
We wanted to create an oasis of calm in Norwich's bustling city centre, while staying true to the building's heritage as a place of entertainment and hospitality.